GrantLove Project Limited Edition Print Release 2023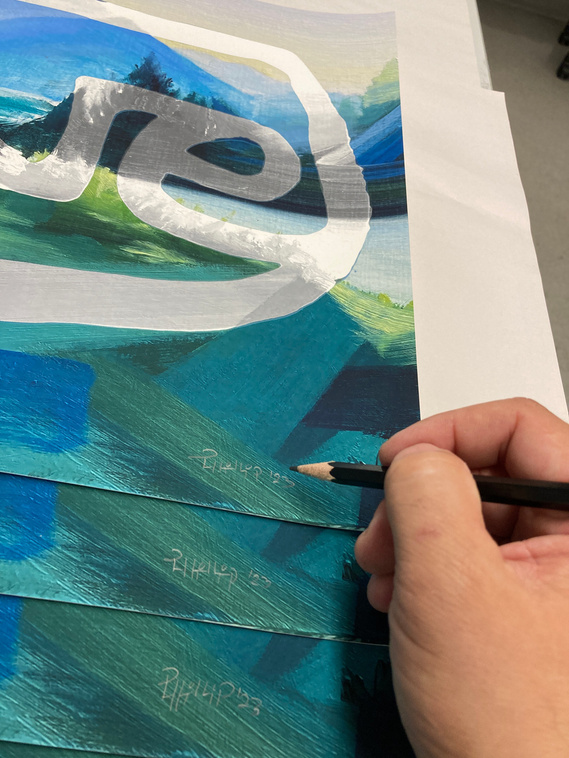 About the Prints
The Creative Process:
To create is piece I combined physical (oil) painting with digital design, uniting Alexandra Grant's iconic grantLOVE logo with mountain imagery. This new digital work was then printed on high-quality archival paper, and hand-silkscreened. Each print is hand-signed. Inspired by the light and atmospheric color of many mountain hikes in the Sierra Nevadas, Rockies, Appalachians and Alps, and by the joy and love of the community-oriented grantLOVE Project.
Huge thanks to artist Alexandra Grant and her team! I would also like to thank master printmaker Margaret Lomeli, and the team at Mustard Beetle!
From the grantLOVE Project site:
"The grantLOVE Project is pleased to announce a new edition of four prints by artists Alexandra Grant and Phillip Griswold, organized with the Entertainment Industry Foundation (EIF) to benefit Jennifer Hudson's Julian D. King Gift Foundation.
The four prints created for this collaboration feature Alexandra's iconic LOVE symbol as interpreted by artist Philip Griswold, screen-printed on a giclee mountain scene. Massif (LOVE), 2023 comes in four colors—white, periwinkle, peach, and lemon yellow—each in a signed and numbered edition of 50. "
Purchase Link Below
LIVE on the Jennifer Hudson Show & the Julian King Foundation

The Massif (LOVE) print will be showcased on the Jennifer Hudson show, airing on Wednesday, 11/21/23.
A portion of the proceeds of each print will benefit the Julian D. King Gift Foundation. "Jennifer Hudson and the Julian D. King Foundation provide stability, support and positive experiences for children of all backgrounds. The Foundation acts as a catalyst for change in children's health, education and welfare. Each year, the Foundation produces large-scale giving events in the city of Chicago, which benefit low-income families in the Chicago area who may not normally have access to the resources they need in order to succeed." -Via the Jennifer Hudson Show website.